 Life Is Not A Single Step…And Your Financial Planning Shouldn't Be Either.
Financial and investment planning is a continual process in the relationship between our clients and Whetro. Our objective is to help you understand how your finances are working on your behalf. We are here to discuss that process with you as often as necessary, educate, and eliminate any confusion in regards to investment. Together, we create a future for you that reflects your short and long term goals, giving you the financial freedom to enjoy the lifestyle you've sought after. 
Financial Planning Isn't A Product. It's A Process.
Financial planning is the integration of your resources with your goals. It also provides scope to the best direction for your finances. Working with our fiduciary experts, you learn how your money is at work on your behalf while avoiding impulsive decisions. A "hot" trend doesn't equate to longstanding security. Our advisors will help explain the how and why, creating the ideal financial plan for your needs. 
Whetro is Providing Toledo's The Necessary Tools For Financial Success 
No matter the goal, we are here to work with you to ensure that they're attainable. Together, we will create a strategy that key financial elements necessary to attain these goals. As previously stated, we will meet as often as necessary to review your finances and adjust to the changes life sends your way. Whetro is here to help you towards a successful financial journey.
Contact us for a free consultation today. 
The 7 Steps To Creating A Successful Financial Plan
Once your financial goals are established, the next step is to develop a plan that keeps your goals on track. This allows you to quantify your efforts, make spending adjustments, and determine the time it will take to meet each of these goals. Budgeting, investments, retirement planning, tax preparation, estate planning, risk management…these are the building blocks upon which your plan will be built.
The timing of your financial plan is determined by your financial goals. While some plans will stretch over a designated period of time, the ultimate goal is flexibility that accounts for life changes without causing duress. Whetro works side by side with you to establish your plan to do that very thing.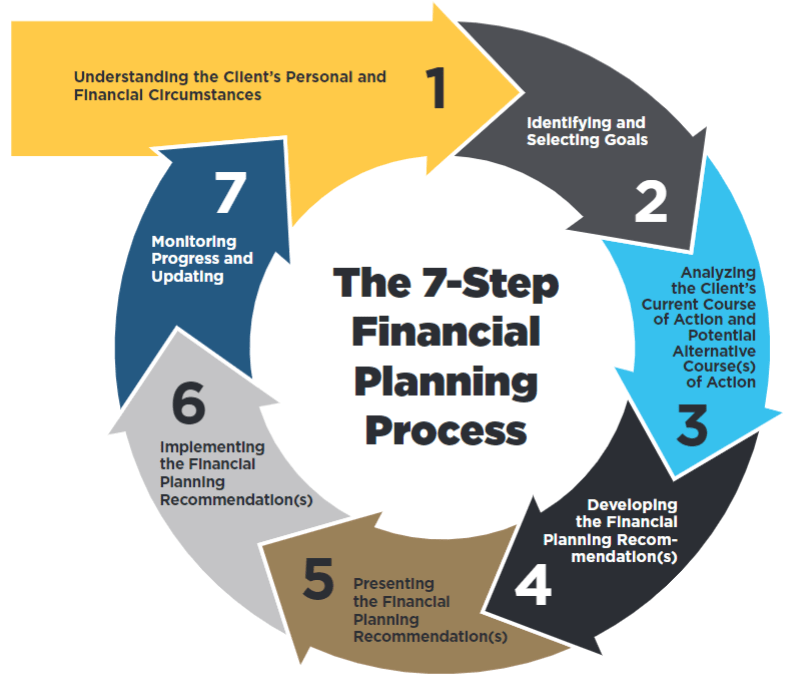 Gain Understanding of Your Personal and Financial Circumstances
Identify and Select Goals
Analyze Your Current Course of Action and Potential Alternative Courses of Action
Develop Financial Planning Recommendations
Present Financial Planning Recommendations
Implement the Financial Planning Recommendations
Monitor Progress and Keep You Updated