 Financial and Investment Planning Should be an Ongoing Process, Not a One Single Step
Financial plans as well as
investment plans
should be a continual process between our clients and our advisors. We are here to meet with you as frequently as necessary to help you understand the best way to stay on track and grow your finances without getting confused over which strategy will work best for you. Together, we can set you up for the future you want by developing realistic short and long-term goals that will allow you to have financial freedom to continue or improve your lifestyle and leave a legacy. When you're ready to work with a fiduciary and independent financial advisor to grow your assets and build wealth, contact Whetro Wealth Management for help.
Financial Planning in Toledo and Northwest Ohio is a Process, Not a Product
Put simply, financial planning integrates your resources with your goals and objectives. It also will provide direction and discipline to people looking for guidance on what to do and where to put their finances. Without direction and discipline, people typically make impulsive, random decisions: they buy insurance, invest in that "hot" stock, or adopt the latest tax strategy, often compounding problems that are difficult to reverse. Our advisors can help you to create a financial plan that works for your unique needs. 
Our Certified Financial Planners in Toledo are Here to Give You the Tools Necessary to Set You Up for Financial Success
No matter what your financial goals are, we work with you to ensure they are attainable goals. Setting unrealistic goals can cause more financial harm if not executed properly. We help to identify key financial issues concerning those goals and prepare a list of strategies for achieving those goals. We will then meet with you periodically to review your plan and make any adjustments needed with any changes that may have occurred within your life.
Bottom line: We are here for you. Contact our experienced financial planners today to schedule a consultation to review your current finances and begin setting your plan in motion. 
What are the Steps to Creating a Financial Plan?
Once we determine what your financial goals are, the next step is to develop a plan to determine whether you are staying on track to meet those goals. It allows you to see if and when you need to make adjustments to your spending, how long you need to save before you can afford something. The different parts of a financial plan include budgeting, investing, retirement planning, estate planning, tax planning, and risk management. Not all plans will include all of these parts, but most will as they are important for future financial success. 
The timing of your financial plan depends on your financial goals. Some plans can stretch over a designated period of time while some can continue with no end. Financial plans are also meant to be flexible to account for life changes, expected or not such as marriage, children, a new home, a death in the family, etc.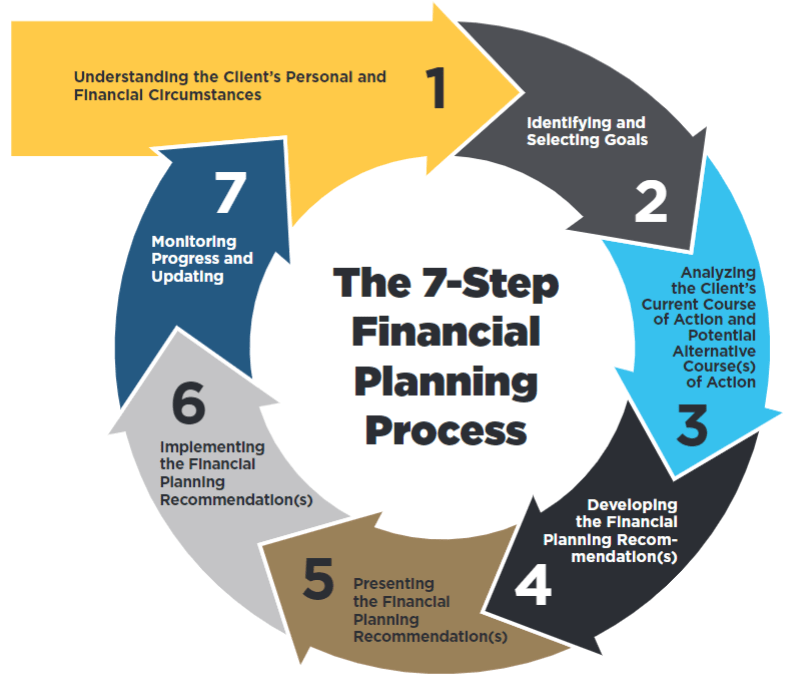 Gain Understanding of Your Personal and Financial Circumstances
Identify and Select Goals
Analyze Your Current Course of Action and Potential Alternative Courses of Action
Develop Financial Planning Recommendations
Present Financial Planning Recommendations
Implement the Financial Planning Recommendations
Monitor Progress and Keep You Updated